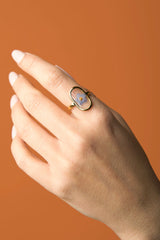 We are completely sold out of this ring and working on making more for our next restock! All orders are estimated to ship within 1-2 weeks.

Long Winded UPDATE:
Hey everyone, sorry we had to raise the price of this ring.
This particular ring takes 5x more time, frustration and hand work than every other product.
We can only use 1 out of every 20 mustard seeds due to size and color.
Only 1 out of every 15 flowers fit the ring correctly.
Then 5 out of every 10 ring become completely defect if anything at all moves around while the resin is setting.
Then another 2 out of 10 rings become defect if the resin leaks out or cured slightly unevenly.

To keep the ring thin we have to then have to make sure a perfect amount of resin is added.
Too little and the mustard seed pokes out, slightly too much and the resin leaks.

Just making sure the resin sets perfectly on a thin ring like this takes MORE work than making anything in sterling silver.

Working with stainless steel also means machine work is REQUIRED. You can't do 100% of the work by hand even if you wanted.

Then it has to be tumbled then polished by hand. It takes us 1 month minimum just to make a batch and we are pretty specialized in doing this. Even then there's a lot that fails quality inspection.

We wanted to keep the price low so everyone could afford it, but we are having trouble making enough to ship out the current previous orders.

The quality cannot be kept on low prices.

We are working hard to ship out the previous orders but this might take another week or so until we get things fully sorted out.

Sorry that's the end of the rant.
-------------------
🌼 Each ring contains a delicate Forget-Me-Not flower,
🌿 Handpicked, pressed and dried to retain its shape and color forever.
 Topped with a single mustard seed,
 A symbol of enduring and unwavering faith.
Makes a dainty affirmation of enduring faith and loyalty.
 
A perfect gift of faith, hope and encouragement for life's significant moments

A confirmation or baptism gift, showing your support for their spiritual journey.

A graduation gift, reminding them that they can conquer any challenge that lies ahead.

An uplifting present for a friend going through a difficult time.

Or just a simple token to show someone you care.

PRODUCT DETAILS
Made from stainless steel and won't tarnish
SATISFACTION GUARANTEE
If you aren't in love with your order, just let us know within 60 days and you'll receive a stress-free refund.
We don't want your special moment to fade.
To maintain the quality of your new faith jewelry, please:
- Avoid contact with perfumes, body oils, and other chemicals, including household cleaners.
- Remove when sleeping, exercising, or doing other physically strenuous activities
- Do not wear it to the pool, spa, or the beach
- Do not use chemical jewelry cleaners
- Gently polish with a soft, lint-free cloth.