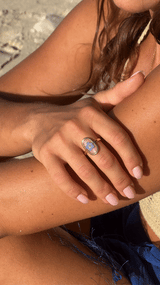 🌼 Each ring contains a delicate Forget-Me-Not flower,
🌿 Handpicked, pressed and dried to retain its shape and color forever.
 Topped with a single mustard seed,
 A symbol of enduring and unwavering faith.
Makes a dainty affirmation of enduring faith and loyalty.

Matthew 17:20 Story
In a place far away, near a big mountain,
The friends of Jesus had a problem.
A boy was quite sick, his dad worried a lot,
They needed some help, the best kind they sought.
They tried many people, but nothing did work,
The boy was still sick, his troubles did lurk.
Then Jesus came by, with a kind, gentle look,
He saw what was wrong, no words it took.
"Your friends," said the dad, "they tried, yes they did!
But my boy's still unwell, he's just a small kid."
Jesus sighed a bit, looking a bit sad,
"Oh, faith," he said, "it's what you should've had."
He turned to the boy, with kindness and care,
And suddenly, the boy was better, right then and there.
The friends were amazed, and later they asked,
"Why couldn't we help? Was it too hard a task?"
Jesus smiled softly, and said with a tone,
"It's all about faith, that's what should've been shown.
If you have faith, even small, like a seed,
A tiny mustard one, that's all you really need,
Then mountains will shift, and rivers will part,
Faith is a power, that comes from the heart.
It's not how big it is, or what others see,
But faith that's real, that's the key, you see."
So remember this story, when things get tough,
A little faith, that's more than enough.
With faith as small as a seed, you'll see,
You can move your own mountains, just believe!
A perfect gift of faith, hope and encouragement for life's significant moments

A confirmation or baptism gift, showing your support for their spiritual journey.

A graduation gift, reminding them that they can conquer any challenge that lies ahead.

An uplifting present for a friend going through a difficult time.

Or just a simple token to show someone you care.

PRODUCT DETAILS
Made from stainless steel and won't tarnish
SATISFACTION GUARANTEE
If you aren't in love with your order, just let us know within 60 days and you'll receive a stress-free refund.
We don't want your special moment to fade.
To maintain the quality of your new faith jewelry, please:
- Avoid contact with perfumes, body oils, and other chemicals, including household cleaners.
- Remove when sleeping, exercising, or doing other physically strenuous activities
- Do not wear it to the pool, spa, or the beach
- Do not use chemical jewelry cleaners
- Gently polish with a soft, lint-free cloth.