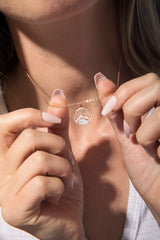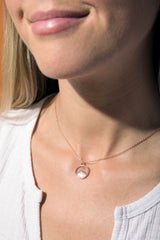 What did Jesus actually mean in Matthew 17:20?
Jesus said in Matthew 17:20
"For truly I tell you, if you have faith the size of a mustard seed, you will say to this mountain, 'Move from here to there,' and it will move; and nothing will be impossible for you."
Why did Jesus compare our faith to one of the world's smallest and most insignificant seeds?
Because he wants to show that it is NOT the size of our faith that moves mountains, but instead the strength of our God.
So What does this Necklace Mean?
This necklace is a reminder and a challenge to rely on the strength of our heavenly father in times of need and not our own strength alone. 
And that no matter how big a mountain in front of us may seem, if we rely on God's power, we can overcome it.
-
What is the difference between stainless steel vs sterling silver?

Sterling silver has a smoother polish, softer edges and a brighter glimmering shine.
Model pictures are all sterling silver.
Both are hypoallergenic and tarnish free.
Shipping Times:
USA orders ship next day UNLESS item is sold out and is on back order.
International Shipping is around 10 days. 
Product Details
Expandable from diameter 2.5 to 3.5 inches (6.5 to 8.5 cm) 
Made from stainless steel and won't tarnish
Uses real mother of pearl.
SATISFACTION GUARANTEE
If you aren't in love with your order, just let us know within 60 days and you'll receive a stress-free refund.
We don't want your special moment to fade.
To maintain the quality of your new faith jewelry, please:
- Avoid contact with perfumes, body oils, and other chemicals, including household cleaners.
- Remove when sleeping, exercising, or doing other physically strenuous activities
- Do not wear it to the pool, spa, or the beach
- Do not use chemical jewelry cleaners
- Gently polish with a soft, lint-free cloth.