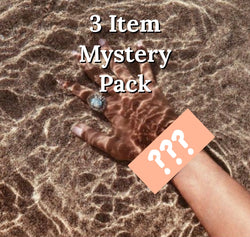 Love surprises? (Yup, us too.)

Grab one of our Mystery Bracelets, Necklace or keychains, and we'll send you a super-special, totally secret style with your order!
We hope to create beautiful wearable reminders of truth so you can share your story and show your love for Jesus. 
*mystery packages are final sale and non-refundable since they're limited edition items that will not restock. We cannot guarantee all 3 items will be different. They may all be the same*
We don't want your special moment to fade.
To maintain the quality of your new faith jewelry, please:
- Avoid contact with perfumes, body oils, and other chemicals, including household cleaners.
- Remove when sleeping, exercising, or doing other physically strenuous activities
- Do not wear it to the pool, spa, or the beach
- Do not use chemical jewelry cleaners
- Gently polish with a soft, lint-free cloth.