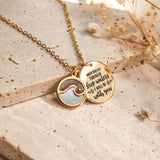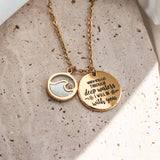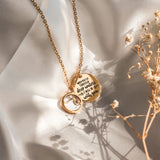 The necklace is a constant reminder that you're never alone.
"When you go through deep waters I will be with you," serves as an enduring symbol of God's steadfast presence, especially in challenging times.
This message is accompanied by a single mustard seed encapsulated in clear resin, signifying the strength and potential of all your beliefs.
A perfect gift of faith, hope and encouragement for life's significant moments

A confirmation or baptism gift, showing your support for their spiritual journey.

A graduation gift, reminding them that they can conquer any challenge that lies ahead.

An uplifting present for a friend going through a difficult time.

Or just a simple token to show someone you care.
PRODUCT DETAILS
Chain length: 42cm + 8cm extender (16.5in + 3in extender)

Charm size: 12mm, Coin size: 21mm
Mustard seed is set in a durable, non-yellowing epoxy resin
Made from stainless steel and won't tarnish
SATISFACTION GUARANTEE
If you aren't in love with your order, just let us know within 60 days and you'll receive a stress-free refund.
We don't want your special moment to fade.
To maintain the quality of your new faith jewelry, please:
- Avoid contact with perfumes, body oils, and other chemicals, including household cleaners.
- Remove when sleeping, exercising, or doing other physically strenuous activities
- Do not wear it to the pool, spa, or the beach
- Do not use chemical jewelry cleaners
- Gently polish with a soft, lint-free cloth.