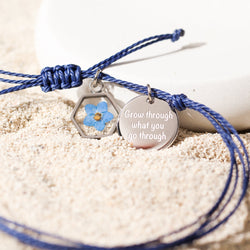 🌼 Each bracelet contains a delicate Forget-Me-Not flower,

🌿 Handpicked, pressed and dried to retain its shape and color forever.
 Topped with a single mustard seed,
 A symbol of enduring and unwavering faith.
A perfect gift of faith, hope and encouragement for life's significant moments

A confirmation or baptism gift, showing your support for their spiritual journey.

A graduation gift, reminding them that they can conquer any challenge that lies ahead.

An uplifting present for a friend going through a difficult time.

Or just a simple token to show someone you care.

PRODUCT DETAILS
Made from stainless steel and won't tarnish
SATISFACTION GUARANTEE
If you aren't in love with your order, just let us know within 60 days and you'll receive a stress-free refund.
We don't want your special moment to fade.
To maintain the quality of your new faith jewelry, please:
- Avoid contact with perfumes, body oils, and other chemicals, including household cleaners.
- Remove when sleeping, exercising, or doing other physically strenuous activities
- Do not wear it to the pool, spa, or the beach
- Do not use chemical jewelry cleaners
- Gently polish with a soft, lint-free cloth.